HAVE YOUR BEST STAY EVER - COME ON DOWN TO THE
COLONIAL MOTEL

Please call (608) 253-7771 or fax (608) 254-4863
606 Broadway Street, Wisconsin Dells, WI 53965
ON THE STRIP-DOWNTOWN WISCONSIN DELLS
BEST LODGING RATES
CLICK HERE!
FREE CASINO 24 HOUR SHUTTLE!
Click to view our location on a map
Welcome to our friendly, relaxing place! Colonial Motel offers YOU very comfortable rooms to meet every budget.
Just relax or take a refreshing dip in our deluxe super-sized heated pool with two slides.
Walking distance to many fine restaurants, attractions, downtown shopping and nightlife.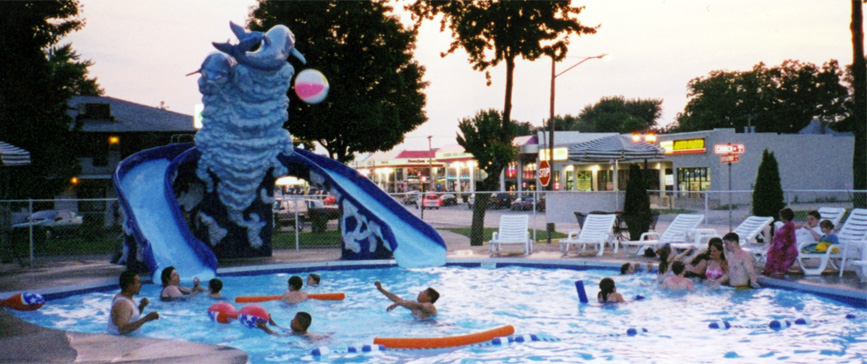 Best Location

Unique Experience

Only One Place Like That

You can really see and feel the Downtown atmosphere from our heated pool!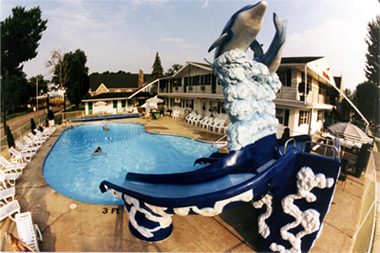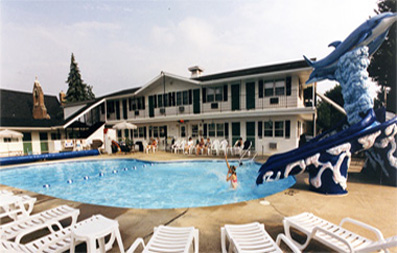 WELCOME ALL SPORT PLAYERS!
Colonial Motel is perfectly located just a short distance from
"JustAgame Fieldhouse" and "Woodside Sports Complex."
You are going to save money on lodging rates
and save time for rest and relaxation!

AMENITIES

Over Size Heated Pool with 2 Water Slides.
In Room Phones with Free Local Calls.
Hair Dryers available in office.
Direct TV with Free HBO/Disney/ESPN.
King, Queen and Full Beds.
Adjoining Rooms.
Air Conditioning/Heaters.
Non-Smoking Rooms.
Fridge available at extra cost.
Complementary Ice for drinks.
Free Crib/Rollaway.
Free Microwave.
Free Ho-Chunk Casino Shuttle Available 24/7
Free Shuttle Bus to the Original Wisconsin Ducks.
Picnic Table.
Vending Machine.
Walk to Shop, Dining, Attractions,
& Boat Tour.
100 meters from Bowman Park (basketball courts, playground, swings, sandbox, shelter, picnic tables and BBQ grill).
Open Year Round with Off-Season Rates
Great Location for All Winter Sports
Free parking permits (one parking space per room)
Church Street Laundry across the street
Free wireless internet for guests



POLICIES

Check in time: 3:00 p.m. - Check out time: 10:00 a.m.
All major credit cards accepted.
One night's deposit required for each room reserved.
Cancellation Policy: Family Units - 7 days prior to your arrival date is a $20 fee. All other type of rooms - 72 hours prior to your arrival date is a $10 fee. Anything under this specific period of time, your credit card will be charged for the remainder of the first night plus all taxes.
Colonial Motel will charge a fifty dollar fee for extensive cleaning of room above and beyond normal guest usage. Guests are also responsible for any damages incurred to the room during their stay.
No refunds for early checkouts.
Pool hours: 8:30 a.m. to 10.00 p.m. Use the POOL AND SLIDE AT YOUR OWN RISK - No lifeguard ON DUTY. No Diving is allowed. Please bring your own beach towel for pool.
Beginning July 5th, 2010 Statewide Wisconsin - No smoking is permitted in all motel and hotel rooms. Any evidence of smoking in your lodging room will result in a $250,- fine and possible eviction.
Colonial Motel facilities and amenities are for registered guests only.
Quiet time begins at 11pm and will be strictly enforced, if not followed, you will be evicted from Colonial Motel with no refund.
Sorry, no pets allowed. Local kennel nearby (608) 253-7361/(608) 254-7387.
All rates are subject to change without notice.
All rates are subject to state & local taxes.
Holidays and Special Events may have higher rates.

Please call for reservations: (608) 253-7771



We are located on the strip - downtown Wisconsin Dells, in the Wisconsin Dells River District, on East Broadway Street and Church Street.

Just one mile from Interstate 90-94.
Exit 87 on Highways 13, 16 and 23.

606 Broadway Street
Wisconsin Dells, WI 53965 Phone: (608) 253-7771




Noah's Ark Tickets Special

Stay at the Colonial at least one night for special prices on Noah's Ark tickets. Prices are per person.

$18 for a 1 Day Pass - Save $21!!! $20 for a 2 Day Pass - Save $42!!!

---
Rooms & Rates

Before 6/15
6/15 - 6/29
6/30 - 8/25
8/27 - 6/14
Wkday
Wknd
Wkday
Wknd
Wkday
Wknd
Wkday
Wknd
1 Queen Economy Bed
45.00
50.00
50.00
60.00
55.00
75.00
45.00
50.00
1 King Bed
50.00
55.00
60.00
65.00
65.00
85.00
50.00
55.00
2 Double Beds
55.00
60.00
65.00
70.00
55.00
65.00
55.00
65.00
1 Queen & 1 Double Bed
55.00
60.00
65.00
70.00
55.00
65.00
55.00
65.00
2 Queen Beds
65.00
70.00
70.00
75.00
57.00
65.00
57.00
65.00
Family Units - 1 Queen Bed and 2 Double Beds
70.00
80.00
85.00
99.00
125.00
145.00
70.00
80.00
Great downtown location, walking distance to attractions & restaurants, picnic area with playground, shelter and grill nearby, heated oversized pool w/slide, DirecTv, free local calls on in-room phones, free microwave, free cribs/rollaways available, fridge extra, rates based on 2 people per room, extra person $5 per night, adjoining rooms, summer rates on Memorial Day, Labor Day & Wo-Zha-Wa wknds & holidays may require 2 night minimum. Daily motel amenity fee of one dollar will be added to each night stay. Cancellation Policy: 7 days for Family Units to receive refund plus $20 fee. All other units: 72 hrs before arrival to receive refund, plus $10 fee. No pets. No refund for early checkouts. All rates are subject to change without notice. All rates are subject to state and local taxes. Holidays and Special Events may have higher rates.